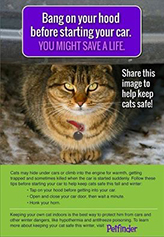 Cats seek shelter under and in cars as well as on warm wheels in the cold weather.
Knock on your hood. Open and close your car door and then honk on the horn to give the cats a chance to get safely away from your car before you start it or move forward.A few seconds can save a life! Thx so much!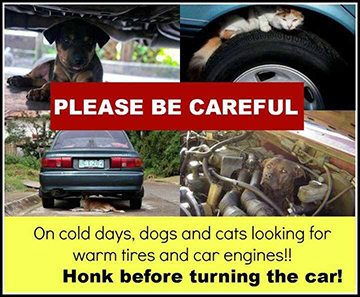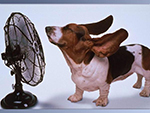 What are safe temperatures inside for your pets?
Professionals in animal health care generally agree that if it would be too hot/uncomfortable for you it will be for your pet. When specific temperatures are given they average under 80 degrees. Please keep your pets safe and healthy & leave AC and/or fans on when you leave your home.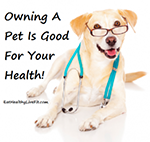 Pets don't just provide companionship & emotional support, studies show that pets make people healthier! :)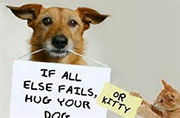 Adopt a new friend from a no kill rescue and save each other's lives. :)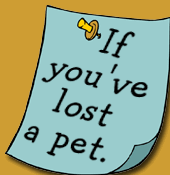 What to do if your pet goes missing:
Be proactive! There are things you can do before your pet goes missing that will significantly increase the chance you will be reunited with your pet:
When your pet is lost, stay calm but do react quickly. Immediately see if you can find your pet. ***(More on techniques with regard to searching for cats, dogs and other pets coming next week). If you are not successful you want to contact local shelters, animal care and control, your local police department, etc.
Make flyers and posters to get out to people and to put up in the area where your pet is missing. The following links have good information for this:

Making Lost Pet Flyers
Making Lost Pet Posters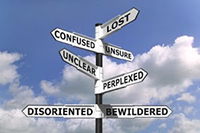 Post your pet as missing in the local missing pet groups on Facebook and Craigslist. Speak to your neighbors and people who spend time on foot around your area such as postmen, young people, dog walkers, etc. Recruit friends and family members (and other volunteers) to help you accomplish all of the above as fast as possible.
For More Info see these links:

Recovery tips for paniced pets.
What to do if your pet goes missing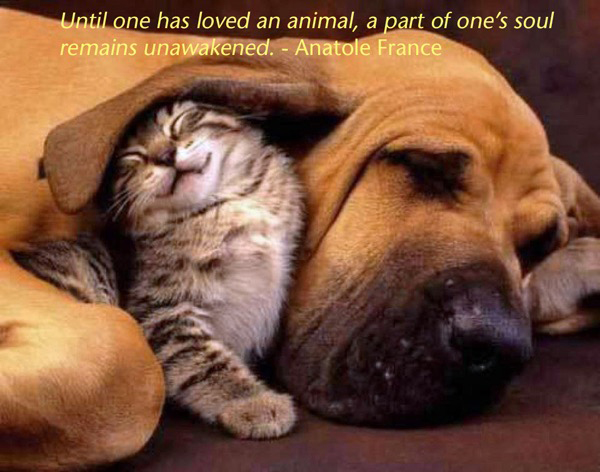 Adult cats meow specifically to humans they don't use this form of communication with each other.
Behaviorist feel this remnant of kittenhood (when babies mewed to mom), has been adapted by cats over time to better interact with humans. Studies show that each cat has a unique meow, as unique as a vocal thumbprint and that people who live with cats are often very good at being able to ID their meows and interpret what each one means.
Here is a link to an informative article about cat communication:
Your cat is trying to talk to you
Despite gaining some understanding of cats we have continued to find them mysterious due to our misinterpretation/misunderstanding of what they are trying to tell us. A great place to start is with cat body language which can tell you a great deal! The words are in the eyes, ears, tail, and body posture. Especially when looking at these things together. Here are some great visual charts and cartoons to help understand kitty speak:
People who haven't had the chance to get to know dogs can be surprised/confused by a behavior or reaction. They hadn't anticipated that behavior, often because they didn't understand what their dog was saying. But understanding dogs means knowing that they are in fact extremely communicative beings. What they can't say in words they are saying with their bodies all the time. Here is some info to help you understand what your pup is telling you, other people and other dogs too. (This is some basic and useful info about what dog's body language means, but every signal may not apply to every dog - there can be some individual differences. Spend time studying your pup and see if the below info applies to him or her. And have fun!) :)
Understand your dog's body language
Dog Body Language Charts
Here is some great info on how to enjoy the summer season and keep your pets safe and well.
21 ways keep pets safe all summer
Have a safe and happy summer with your furry family members! :)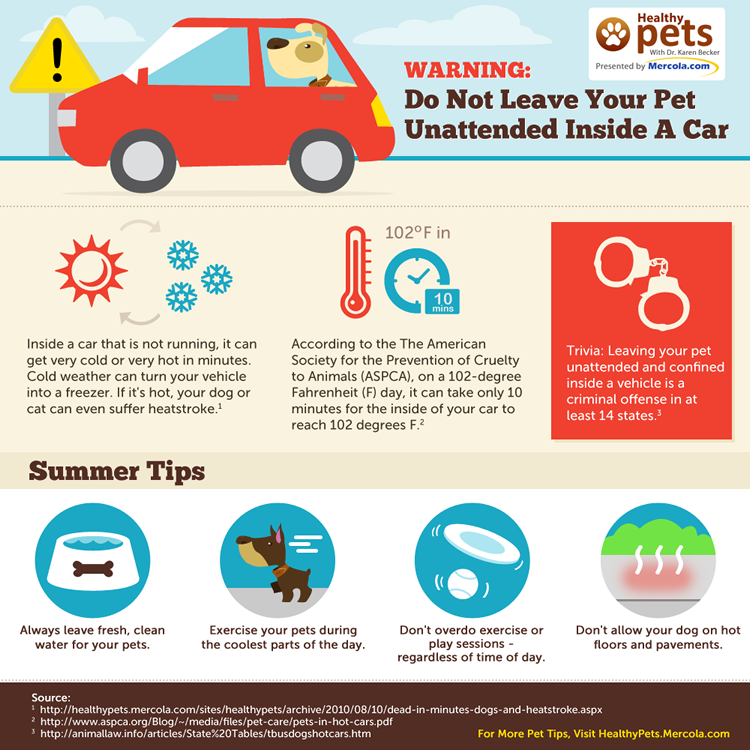 It gets too hot very quickly in your car, so never leave any pet in your car (this is also true in cold weather as the car gets very cold very fast).